Louisiana Grad Returns to Old Middle School: 'I Wish I Had Been Taught This Way'
Back at West Feliciana Middle School as a student teacher 10 years later, alum says new high quality science curriculum would have served him better.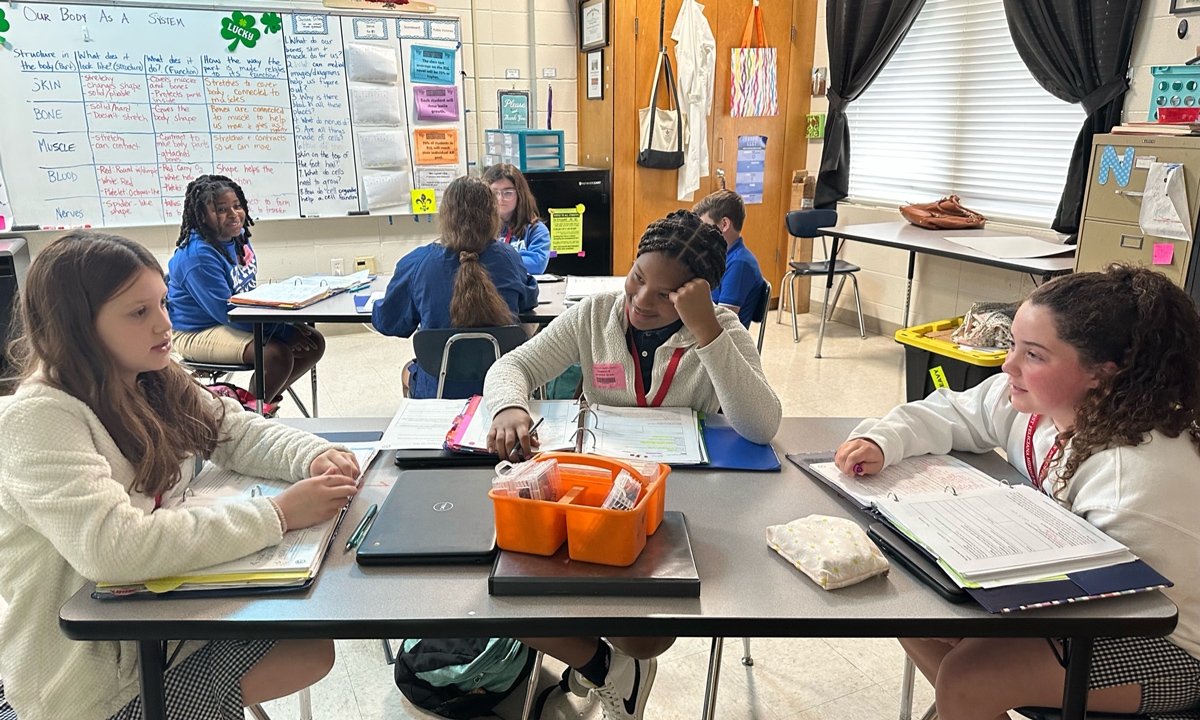 Get stories like these delivered straight to your inbox. Sign up for The 74 Newsletter
This is the fourth in a series of essays from a Knowledge Matters Campaign tour of school districts using high-quality science curriculum. In this piece, Robert Emery Godke, a student teacher in the West Feliciana Parish Schools in Louisiana, reflects on returning to West Feliciana Middle School after having been a student there 10 years earlier. With the district's implementation of a high quality science curriculum, science instruction has transformed from "sit and get" to an interactive learning experience. Follow the rest of the series and previous curriculum case studies here.
When you walk into a science classroom at West Feliciana Middle School you will likely see a lot of excited engagement — with students exploring scientific phenomena and making observations about what they see, asking questions and making predictions about the world around them, and conducting experiments to answer their research questions. These activities model the methods of a professional scientific researcher and, while relatively new to the school, are becoming commonplace for our student body.
Ten years ago I was a student at West Feliciana Middle School. While I have always been one of those who succeeded in the standard classroom environment, science classes rarely piqued my interest. Even though school came easily to me, I struggled to pay attention, or even stay awake, during science class. I yearned for opportunities to "get my hands dirty" and try things out for myself. Unfortunately, most of the science classes I experienced utilized what I now understand to be the "sit and get" model, with students sitting silently in their seats while the teacher presented information. Unsurprisingly, this was wildly boring for many of us.
I write this now as a student teacher in the same middle school where I grew up. I'm a senior at Louisiana State University's GeauxTeach STEM program currently working to earn my full Louisiana teaching certificate. Science is my passion, and my interest in becoming an educator was to inspire that same passion in students from my hometown community. (I have since decided to pursue a medical degree; but that's another story.)
Luckily for me, my assigned mentor teacher, Sarah Parkerson, was also my seventh-grade science teacher when I was a student at WFMS, providing me with the unique opportunity to compare my classroom experiences of 10 years ago to the experiences that students are currently receiving at WFMS. The contrast truly is remarkable.
WFMS now uses OpenSciEd, a middle school science curriculum created to support the Next Generation Science Standards, that require so much more of students than those in place when I went through school. At the start of each unit, students are presented with a familiar "anchoring phenomenon." This phenomenon is then used as a framework to explore the scientific principles and processes laid out in the standards.
In one of our units, for example, the curriculum used a bath bomb as its anchoring phenomenon to teach students about chemical reactions. Almost all of the students in my classes have been familiar with this common bathroom item, but, upon initial probing, my students realized they didn't have any idea of why or how it worked. We started out the unit by asking questions about the bath bombs.
"What is it made out of?" "Is the gas trapped inside?" "What happens if you put the bath bomb in a different liquid?" When they dropped the bath bomb in the water, we asked them to make and record their observations. They then performed experiments to see how the mass and properties change before and after dropping the bath bomb in water. We even analyzed the materials in the bath bomb to see what combinations of ingredients would give us similar reactions.
Throughout this entire process, the students were rarely sitting at their desks taking in information and being given explanations by their teacher. They were the ones asking questions and making observations. They took measurements. They conducted mini experiments and analyzed their results. While the activities may have been facilitated by the classroom teacher, it was unquestionably the students who were driving their learning. And it was extremely motivating to them to find answers to their questions. Their curiosity and engagement was sustained throughout the unit.
In the end, our students learned a ton about chemical reactions and how we identify them, based on a common bath item they'd never thought twice about. They came to class excited to do experiments to figure out an explanation behind something that they knew worked but never knew why it worked, bragging to their friends when their predictions turned out to be correct. I'm certain they would not have been nearly as excited to sit in a chemistry classroom and learn the same material from a lecture. I know that I would have preferred the "OpenSciEd" curriculum as a student 10 years ago. I wish I had been taught this way.
I also firmly believe that our student's retention of scientific knowledge is enhanced by this approach. In our most recent unit, students are learning about the digestive system and our body's metabolic reactions through the anchoring phenomena of a sick middle school girl named "M'Kenna." Throughout the unit, these seventh graders are referencing things they learned in their sixth grade OpenSciEd unit about the body's healing processes as building blocks for what they're learning now. Through these small but significant references to their sixth grade experiences, my students have shown that they are not only improving their volume of learned science knowledge, but are also making connections to previously learned material.
I've become convinced that inspiring a love for science in young people depends on falling in love with the scientific process itself. As functioning adults we ask questions, make observations and seek connections to answer our questions. On a fundamental level, this is the basic framework that scientific researchers, regardless of their chosen scientific field, work with every day. If we can model this process in our classroom, we can not only introduce the basic scientific process to our students but also improve their problem-solving skills.
The enthusiasm my students at WFMS have for science, in contrast to the experience my classmates and I experienced a decade ago, makes it abundantly clear that utilizing the scientific process has the power to engage — far more than sitting and memorizing any particular tidbit of scientific knowledge. The fact that students are doing this in a collaborative environment, with their peers, also makes it so much more "real." And I sincerely hope that this will inspire our students to live their lives as scientists, not just until state testing concludes.
Robert Emery Godke is a senior at Louisiana State University's GeauxTeach STEM program and a student teacher in the West Feliciana Parish Schools in Louisiana.
Get stories like these delivered straight to your inbox. Sign up for The 74 Newsletter