Indiana Looks to Make High School Curriculum More Focused on Career Paths
Indiana lawmakers codified the sweeping plan in the final hours of the legislative session last month.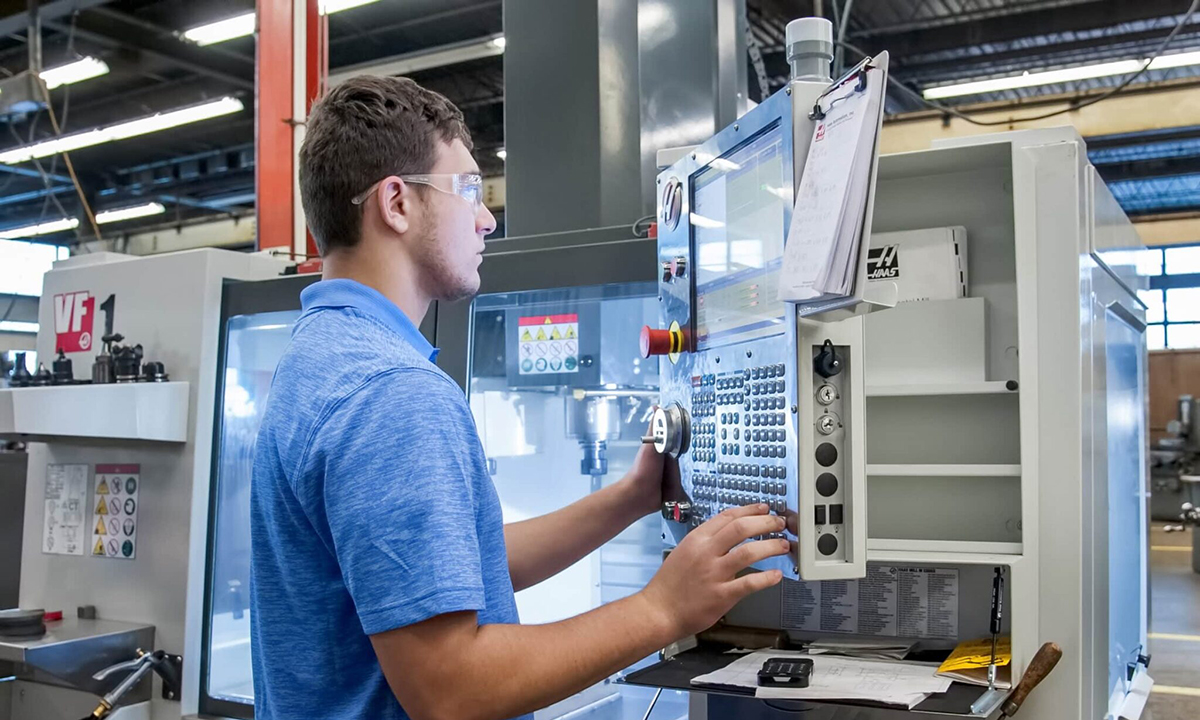 Get stories like these delivered straight to your inbox. Sign up for The 74 Newsletter
Multiple state offices are on the clock to put in motion statewide career-centered education and training programs that seek to graduate Hoosier students who are better prepared for the workforce.
The House and Senate compromised in the final hours of the legislative session on a massive Republican-backed plan that, at its core, seeks to expand work-based learning in Indiana high schools, like through apprenticeships and internships.
Paramount to the 85-page House Bill 1002 is a provision that would establish accounts for students in grades 10-12 to pay for career training outside their schools. The new framework is intended to enable students to earn a post-secondary credential before leaving the K-12 system. Indiana Gov. Eric Holcomb signed the bill into law last week.
So far, lawmakers have approved more than $20 million for the plan, although Indiana schools and various state agencies are expected to spend even more to get the programs started — and to keep them running.
Republican legislators said they were adamant in the 2023 session to "reinvent" Hoosier high school curriculum as the state tries to reverse its dismal college-going and credentialing rates, stymie other academic impacts following the COVID-19 pandemic and help fill open jobs around the state.
While Democrats agreed that Hoosier students need more training, those in the minority were largely opposed to the bill.
They questioned its effectiveness for students and cited concerns about oversight, especially in regards to intermediaries that will be entitled to state dollars for helping connect students with employers and training opportunities.
"This is the most complicated, jerry-rigged thing I've ever seen," said Rep. Ed Delaney, D-Indianapolis.
Sweeping changes to career-ready education
House Bill 1002 was one of the last bills passed in the legislative session. A conference committee report for the proposal wasn't approved until 11:49 p.m April 27 and was different, in several ways, from earlier iterations.
The plan got a 75-22 vote in the House and a 35-15 vote in the Senate.
As part of the overhaul, public schools must provide career awareness instruction beginning in the 2024-25 academic year.
The Indiana Department of Education (IDOE), in consultation with the Commission for Higher Education (CHE), are responsible for designating and approving a new course sequence, career courses, modern youth apprenticeships and other related programs.
The bill also requires public high schools to offer an annual career fair during regular school hours.
Separately, the new law requires the following to meet with a CHE-approved postsecondary educational institution, an intermediary, an employer, or a labor organization:
high school students in grades 11 and 12college students receiving a 21st Century Scholarship or Frank O'Bannon Grantcommitted offenders nearing release
"Intermediary" is broadly defined in the bill as an "organization that connects individuals with companies looking for new workers.
IDOE and the State Board of Education (SBOE) must additionally establish new high school diploma requirements that make it easier for career education and certain alternative courses to count towards graduation, as well as honors diplomas.
Further, the bill stipulates that CHE will take over Indiana's Office of Career and Technical Education. The eight-person staff is currently under the Governor's Workforce Cabinet.
Indeed, the workforce cabinet was to be the home for the overall initiative in earlier drafts but shifted to CHE on the final night.
Indiana Secretary of Education Katie Jenner said during a SBOE meeting Wednesday that House Bill 1002 provides necessary new incentives for schools to build up career-ready students. It also gives state education officials "more flexibility" to create the framework for new learning options.
The board said it's already in the process of crafting the new diploma requirements and improving access to both high-quality work-based learning opportunities and high-value postsecondary credentials before high school graduation.
"House Bill 1002 has been tough for the general public to wrap their arms around, but there are so many elements of really good opportunity in that which we must seize to hit the ball out of the park," Jenner said.
The bill also expands the requirements for education programs to be qualified to accept grants from Indiana's Career Accelerator Fund — now called Accelerate Indiana — which is managed by INvestED, the state's college loan agency.
Students in those programs will have two years — rather than six months — to earn a credential.
The income that graduates must earn within two years after they complete such programs was also dropped from 200% of the statewide per-capita income to 150%.
The interest-free loan program to help Hoosuers earn short-term certificates and other credentials launched in 2021 after state lawmakers rushed to spend the state's surplus of federal COVID-19 relief money earlier that year. The General Assembly wrote in $75 million for the revolving fund without prior public discussion in the last state budget. No new appropriations were made in the next state budget.
Career Scholarship Accounts
Republican budget writers approved $15 million over the biennium for career scholarship accounts (CSAs), which will be similar to Indiana's Education Scholarship Accounts (ESAs). Participating students can use the $5,000 CSAs to pay for apprenticeships, career-related coursework, or certification.
Starting in the 2025 fiscal year, students will first be required to create a graduation plan in order to qualify for the scholarship accounts.
It's not clear how many students will opt to use the CSAs over the biennium, however.
The program is likely to grow over time, according to a nonpartisan legislative fiscal analysis, but it did not provide specific projections. GOP lawmakers previously said their goal is to get 5,000-10,000 students to participate in the next fiscal year.
Still, the bill specifies that CSA accounts can be used to pay for certain postsecondary education and training, which could "significantly increase" participation in the program as more courses are approved.
Public schools — including career and technical education centers — can become CSA providers, which would allow them to receive money from the program.
If public schools are able to attract homeschoolers or students attending private schools, revenues would increase. But if students choose to forego those offerings at the public school and instead choose to get training through a different CSA provider, schools will see their current Career and Technical Education (CTE) grant revenues decrease.
That's because schools will not be allowed to get separate CTE grants for students with CSAs.
Seven new funds
To support the CSA program and other career learning initiatives, the final draft of House Bill 1002 created seven new funds.
Three of those funds are specific to CSAs, while the other center around teacher training, career coaching and boosting the number of available work-based learning opportunities.
Career Scholarship Account Program Fund
Lawmakers appropriated $5 million for CSAs in the new state budget's first fiscal year, and another $10 million in the second year. Any unused funds revert to the state's general fund.
The Indiana Treasurer of State is tasked with administering the fund, with help from CHE and the state education department. A legislative fiscal analysis predicted the treasurer's office will likely need additional staff and resources to administer the program, although the office can leverage the infrastructure it has already built for the ESA program.
House Bill 1002 requires an annual, independent audit of the fund to be made available to the public.
Career Scholarship Account Administration Fund
The fund covers the costs of managing CSA accounts and administering the program.
The treasurer's office can transfer up to 10% of the appropriation for the CSA program to the fund in Fiscal Year 2024. After that, the office will be able to transfer up to 5% of the appropriation for the program to the fund.
Career Scholarship Account Donation Fund
This "non-reverting fund" will receive donations and transfer them to the CSA program fund.
Money in the fund at the end of each fiscal year does not revert to the state general fund but remains for future CSA program purposes, according to the bill.
Connecting Students with Careers Fund
The fund will be used to distribute grants to schools for the purpose of hosting career fairs. The state budget does not put any money into the fund, however. Rather, House Bill 1002 indicates that gifts and grants — including from private entities — can be added to the fund.
Teacher Higher Education and Industry Collaboration Grant Program and Fund
Teachers who want to participate in approved education courses or programs designed to improve their "knowledge and familiarity" with the application work-based learning can apply for grants made available through this fund.
IDOE oversees the program and the fund, but the Commission for Higher Education will help establish criteria used to approve programs and courses. Approved teacher education can be offered by postsecondary educational institutions or employers. It's not yet clear how many grants will be available, or how much each teacher qualifies to receive. Those details will have to be hashed out by state officials.
Indiana's next budget appropriates $1 million each year of the biennium into the fund.
Career Coaching Grant Fund
Under current law, the Governor's Workforce Cabinet is tasked with establishing a career navigation and coaching system and administering an existing Career Coaching Grant Fund.
House Bill 1002 eliminates that fund and establishes a new Career Coaching Program and a new grant fund – with the same name — to instead be administered by the higher education commission.
CHE must develop and implement a new but similar program and award grants from the fund to schools, intermediaries or "career coaching providers" that agree to help establish or implement "comprehensive career navigation and coaching systems" for students.
IDOE will approve career coaching providers and determine who is eligible for a grant.
The bill does not earmark any dollars for the fund. The bill indicates that money for the fund can come from future legislative appropriations.
Intermediary Capacity Building Fund
Administered by CHE, the fund provides one-time grants to approved intermediaries to help increase their ability to serve a greater number of students. Lawmakers gave the fund $5 million for the fund in the first year of the budget.
The commission will approve entities in the program and help parents and students navigate how to connect with intermediaries. Each intermediary can get a one-time grant of up to $250,000.
An annual survey of program participants must also be completed.
Indiana Capital Chronicle is part of States Newsroom, a network of news bureaus supported by grants and a coalition of donors as a 501c(3) public charity. Indiana Capital Chronicle maintains editorial independence. Contact Editor Niki Kelly for questions: info@indianacapitalchronicle.com. Follow Indiana Capital Chronicle on Facebook and Twitter.
Get stories like these delivered straight to your inbox. Sign up for The 74 Newsletter