16 Under 16: Where Are The 74's 2022 Class of STEM Achievers Now?
What last year's most impressive teen thinkers and doers in science, technology, engineering and math are up to 9 months later
By Emmeline Zhao | March 1, 2023
Last spring, we asked for the country's help in identifying some of the most impressive students, age 16 or younger, who have shown extraordinary achievement in the fields of science, technology, engineering and mathematics.
After two years of COVID-era learning and daunting news that the futures of American children are ill-fated from the pandemic, it was a striking time to celebrate the triumphs of the country's children, in spite of years of great tragedy.
In an extensive and comprehensive selection process, industry judges scored nominees based on creativity, changemaking, and resilience in their work, or, as one judge put it, "the spark, the light and the flame."
We introduced you to The 74's 2022 class of 16 Under 16 in STEM last summer, highlighting their impressive and inspirational work. But time flies, and these youngsters are ambitious, so we wanted to catch up with them to see what they've been up to since. Here's a peek into their last nine months (click on portraits below to jump directly to each honoree's biography):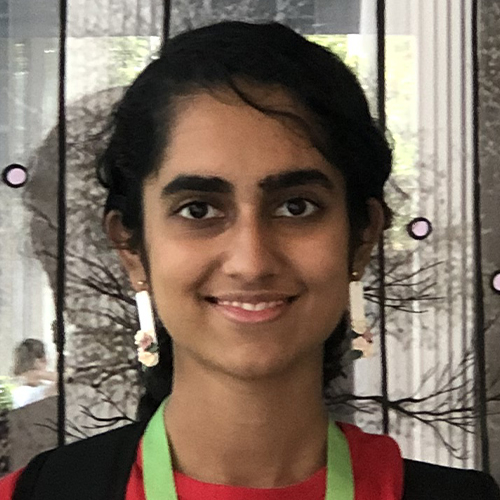 ---
LYDIA DENTON, 14
Wilson Early College Academy (WECA) ■ Wilson, North Carolina
Lydia, now in high school, was the keynote speaker at the Women in STEM Conference at Bowling Green University last fall and is continuing to invent. She's learning app design, and over the summer worked on designing a bento box for diabetics at Wilson's Imagination Station Science & History Museum.
"In the future I want to continue to address problems I see in my community," Lydia said. "I want to spread my message of creating inventions to solve problems. I hope to do more public speaking and workshops to help kids fall in love with STEM."
Meet Lydia for the first time here.
---
HELENA DONATO-SAPP, 13
Westerly School of Long Beach ■ Long Beach, California
Helena has continued her work as a researcher, scholar, and speaker advocating for disability justice. She has published articles in peer-reviewed journals on decolonizing elementary school curriculum, contributed to feminist blogs, written about bullying, and presented to scholars. This year, she will teach a class on how to be a poet-activist and will help train teachers for the Disability-Centered, Culturally Sustaining Pedagogies Series. She's been honored with multiple awards for her work in neurodiversity and disability justice, and is excited about attending her first live concert to see Harry Styles perform.
"I feel like my voice is an important voice in disability justice, because all too often adults only speak for kids, at kids, or about kids and rarely ever invite us to speak for ourselves," Helena said. "I strongly believe that my voice — and all voices of children and youth — is as important as any adult voice without question. I will continue to urge youth participation so that more young people see that they can have agency and impact as they speak truth to power."
Meet Helena for the first time here.
---
VANESHA HARI, 16
Redmond High School ■ Redmond, Washington
Last year, Vanesha was elected as vice president of her school's Girls Who Code club. In the fall, U.S. Rep. Suzan DelBene of Washington presented her with the U.S. Congressional Award Gold Medal for her work in community service, personal development and physical fitness. She competed in the World Robotics Championship last spring, and attended the Women in Engineering summer program at Virginia Tech.
She continues to be a senior STEM instructor, and through her nonprofit Joys of Giving, she's still creating curriculum to teach coding to more than 50 students across the country. She's also battling youth hunger by cooking meals for the homeless and fundraising every quarter for local humanitarian groups. She hopes to inspire more girls to do work in STEM sectors, and dreams of impacting at least 1,000 girls in the next two years through expanding her nonprofit, creating curriculum to teach more students in marginalized populations and establishing connections with new nonprofits. "I want to seize every opportunity to leave this world better than I found it," Vanesha said.
Meet Vanesha for the first time here.
---
STEVEN HOFFEN, 14
Riverdale Country School ■ Bronx, New York
In the last year, Steven has installed two hydroponic gardens to benefit formerly incarcerated women of color and more than 300 low-income seniors with disabilities. At one of the sites, he is also teaching students in grades K-5 about sustainability and hydroponics. Two other hydroponics gardens in The Bronx that he installed are producing up to 6,100 servings per year of fresh produce.
​​Steven is now working with the Federal Bureau of Prisons to install a hydroponics garden at a female penitentiary in Connecticut. The vision is to roll out hydroponics gardens at prisons across the country after the pilot.
Meet Steven for the first time here.
---
CHELSEA HU, 16
BASIS Independent McLean ■ McLean, Virginia
Among numerous awards earned over the last year, Chelsea has started a new science research project that assesses the physical properties of E. coli bacteria with varying levels of expression of anionic phospholipids in the bacterial membrane, and what that means for combating antibiotic resistance — which she hopes can make strides in fighting antibiotic resistance.
She also spoke at the 2022 Global Summit for Cancer Research and Entrepreneurship, at TEDxYouth@SahaleeRoad, and to the National Foundation for Cancer Research, where her international nonprofit Teen Mobile Arts donated $1,500 by hosting an art auction exhibition. "It was indeed a privilege to speak in front of hundreds of professionals in the cancer research space and network with some of the most brilliant scientific minds," Chelsea said.
Last summer, she participated in FutureDocs Abroad in Vietnam at the Huế University of Medicine and Pharmacy and Hué University Hospital in central Vietnam. Chelsea spent over 100 hours gaining real-life experience through rotations in 14 departments across surgery, oncology, anesthesiology and more. She shadowed surgeries, saw tumor diagnoses, created dental molds and observed a live birth.
Meet Chelsea for the first time here.
---
ZIDAAN KAPOOR, 15
Homeschool ■ Redwood City, California
Last fall, Zidaan gave a TEDxYouth@ShorelineBlvd talk about his work in the food allergy community and his mental health app that aims to ease anxiety for those with life-threatening food allergies.
This year he continues his work in STEM through his development of his mental health app Fight Fears, diving into statistical research around the ethics of autonomous vehicles, and continues his math and chess tutoring business with students who have different learning needs.
Meet Zidaan for the first time here.
---
PINYU LIAO, 17
Inglemoor High School ■ Kenmore, Washington
Pinyu is working on creating a free and open access educational outreach program with the University of Washington, Bothell to give students the opportunity to learn scientific methods using original experiments and projects. As a student researcher at the South Lake Union campus at UW Microbiology, she has also joined the The Husky Science Communication Initiative to bring research and STEM opportunities to low-income and under-resourced Seattle public schools. Pinyu is also working to change legislation on antibiotic resistance education, calling on the Washington State Office of Superintendent of Public Education to revise the health curriculum for more education in K-12 schools that teaches proper antibiotic usage and antibiotic resistance. This is a project that is "deeply meaningful" to her, Pinyu said.
She's been invited to speak at the International Summit on Nanotechnology and Nanomaterials in London, England, and will present at the 2023 American Association for the Advancement of Science annual meeting in Washington, D.C. in March for her research on antibiotic resistance.
Meet Pinyu for the first time here.
---
GARIMA RASTOGI, 17
Homeschool/Virtual Learning Academy Charter School ■ Exeter, New Hampshire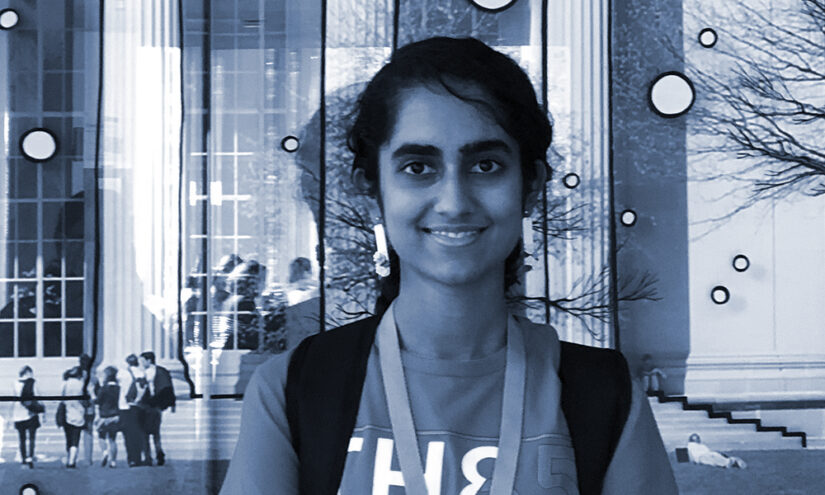 Garima recently founded the Boston & Concord chapter of INTEGIRLS, a nonprofit "teen-led 'by girls, for girls' organization with a mission to bridge the gender gap in STEM" through opportunities like math competitions. "The mission statement really resonated with me, so I decided to found one," Garima said. "That was a bit challenging though because I didn't have too many female friends in math."
So she reached out to Math Prize for Girls for help, and a new chapter was born. Now, Garima hopes to keep it alive for years by staying on as an advisor after she graduates, and is looking to host three competitions this year.
Meet Garima for the first time here.
---
CLORIS SHI, 16
Troy High School ■ Fullerton, California
Cloris has been expanding her STEAM for All club, her passion project that connects high school volunteers who love STEAM subjects to younger students in the community seeking opportunities to expand their knowledge. Among many other events hosted this year, STEAM for All held a Dog Merit badge training class for Boy Scouts, where they learned about the biology of canines and visited a local animal shelter.
Last summer, she conducted a month of marine biology research at UC San Diego's Scripps Institution of Oceanography. Studying Pacific shore crabs of the intertidal zone, I used infrared cameras to measure how crabs adjusted to sudden fluctuations of heat and cold at different stages of life.
"By helping out in my community, I am always reminded of the reasons why I enjoyed science in the first place — the relentless questioning, the tentative answers, the boundless possibilities for growth," Cloris said. "I hope to show as many younger students as possible the beauty of STEM, the beauty of inquiry."
Meet Cloris for the first time here.
---
HARITA SURESH & SHARADA SURESH, 16 & 14
McNair Academic High School ■ Jersey City, New Jersey
Harita and Sharada have continued to conduct free virtual coding classes for children through Little Apple Academy. After receiving several inquiries from parents in Singapore and Australia for classes in their timezone, the sisters spent weeks planning, recording, editing, and publishing online web development and Scratch programming courses. They polled current students to decide on the best projects to include, and researched the best way to present pre-recorded courses. Since last fall, more than 5,500 students have enrolled in their classes.
But that expansion wasn't without its challenges. Unlike live classes where students can ask questions in real time, students in pre-recorded courses do not have the benefit of a live instructor to help them. So Harita and Sharada had to plan their lessons in great detail to preemptively address the potential most commonly asked questions. "These courses will help students anywhere to learn at their own pace at any time," they said.
Through their work, Harita and Sharada hope to to break down advanced computer science topics and make them accessible to all, and aspire to open a computer lab to teach in-person computer science classes to underserved school districts in New Jersey.
Meet Harita and Sharada for the first time here.
---
ELLIOTT TANNER, 14
University of Minnesota ■ Minneapolis
Elliott graduated last year with his bachelor's degree from the University of Minnesota, and has started his studies there as a first-year Ph.D. student looking at research options in high energy physics. He has since completed his research project, "Determining the Effects of Rayleigh Scattering in the Short-Baseline Near Neutrino Program," with the Short-Baseline Near Detector Commissioning Group at Fermilab.
While he has earned accolades for outstanding achievements in his youth, his young age among older peers persists as one of his greatest challenges. "I have worked hard at proving myself and my abilities, and I have taken the required coursework, but I am still not afforded the same opportunities as other people in my Ph.D. program, such as tuition waivers and the ability to take part in teaching assistant positions [due to my age]," Elliott said.
Last summer, Elliott took the time to be a teen — traveling and hanging out with friends. He's looking forward to being a part of a new research project in the next academic year at UMN.
Meet Elliott for the first time here.
---
SANJITH UDUPA, 16
Novi High School ■ Novi, Michigan
Sanjith has continued to provide robotics training resources to middle and elementary school students in inner-city Detroit. Last summer, he researched autonomous vehicles and robotics at Wayne State University's Connected and Autonomous Robots lab. There, he worked on developing a software framework that allows multiple wheeled robots to autonomously guide each other using sensor data from just one robot. Autonomous robots tend to require many sensors individually, but he wanted to understand how sensor data from one robot could be used for navigation on another robot, presumably without sensors. Sanjith has submitted a paper on this research to the IEEE International Conference on Mobility.
This spring, Sanjith and his FIRST Robotics Competition team are hard at work designing their autonomous robot for the season. As group lead, he is working on implementing state of the art vision-based navigation technologies in their robot, much like those in self-driving cars.
He'll be applying to college in the fall, and hopes to attend a school with a strong engineering program.
Meet Sanjith for the first time here.
---
SYDNEY VAUGHN, 17
Valley Christian High School ■ San Jose, California
In the last year, Sydney was elected regional teen president of Jack and Jill of America Inc.'s Far West Region, and serves on the organization's National Teen Board. She was crowned "Ruling Warrior" of the Valley Christian campus for her dedication to wisdom, courage, honor and sacrifice. She also serves as a volunteer puppy raiser for Canine Companions, for whom she trains puppies to eventually become service dogs.
While interning for the Palo Alto Veteran Affairs Medical Center, Sydney created a script used to call veterans to discuss colon cancer screenings and hypertension. The clinic has since implemented and expanded her script as part of routine screenings. Although she's hit some delays in acquiring funding to support her nonprofit, Breakfast With the Homies, she has engaged in two events to serve the local homeless population through a hygiene kit assembly drive, and another day of service to distribute food and provide medical care. "I am still determined to positively impact the homeless population and break the barriers to healthcare access," Sydney said.
Sydney has been accepted to Brown University, and hopes to become a physician to conduct research on racial, social and economic disparities in medicine. She seeks to be able to provide medical treatment and to be a policy advocate for low-income and marginalized communities.
Meet Sydney for the first time here.
---
KAVYA VENKATESAN, 16
Old Bridge High School ■ Old Bridge, New Jersey
Kavya is continuing her advocacy for diversity and inclusion in STEM fields, in part by hosting DiscoverE's Chats with Changemakers show, in which she has conversations with engineers on their career, projects and advice for the student audience. Guests have ranged from engineers working on NASA's Human Spaceflight Program to those who engineer the country's largest sports stadiums.
"I love that I can combine my passions for STEM and public speaking, and it is great to hear feedback like, 'I want to be an engineer' from the students who are tuning in for these episodes," Kavya said.
She is now interning as a Social Cyber Forensics Researcher for the Network Contagion Research Institute, and is using open source intelligence techniques and machine learning to analyze the impact of social media on cryptocurrency prices. She starts a new role this spring as an artificial intelligence/machine learning intern for Moffitt Cancer Center.
Meet Kavya for the first time here.
Aesha Bhatt, of River Trail Middle School in Johns Creek, Georgia, and Samuel Woods, of Crawford W. Long Middle School in Atlanta, Georgia, could not be reached for this piece.
Special thanks to our judges who selected this class of 16 Under 16 in STEM last spring.
Meet the Judges
Alex Kotran
Co Founder & CEO, The AI Education Project
Alex oversees strategy, partnerships, fundraising and external relations for the AI Education Project. Prior to founding the AI Education Project, Alex helped launch The Future Society, a 501(c)(3) AI governance think tank, spun out of the Harvard Kennedy School of Government. As interim head of partnerships, Alex developed and advanced relationships with organizations including the IEEE, UN, European Commission, OECD, Council of Europe, UNESCO, NYU Law, Stanford Law, Microsoft, Google and EY, among others. In this role, he also helped to lead the team which executed the Global Governance of AI Roundtable at the World Government Summit in Dubai, among the largest gatherings of world leaders focused on AI ethics and policy.
Prior to his time in the social impact and nonprofit space, Alex managed brand and policy communications for companies including Oracle, Airbnb, Nissan, HP, Adobe and SAP. He was a lead field organizer in Columbus, Ohio for the 2012 Obama presidential campaign and served as a presidential appointee under HHS Secretary Sylvia Burwell, where he managed communications and community outreach for ACA Open Enrollment, two SCOTUS rulings and the 2015 Ebola outbreak.
---
Patricia S. Johnson
Chief Program Officer, Black Girls Code
A visionary executive with a relentless commitment to racial, gender and educational equity, Patrice is a solutions-oriented expert in strategic planning, research and program management. She is a two-time author and the youngest elected councilwoman for the City of Muskegon Heights, Michigan. She recently led Boys Hope Girls Hope of Detroit as its executive director, spearheading fundraising campaigns, transformative partnerships, and program innovation to increase equitable opportunities for youth. The organization launched the first-of-its-kind, 21st Century Urban Boarding Program for girls of color in Michigan. She continues to lead impactful work as chief programs officer for Black Girls Code.
---
Mason Tang
Engineering Manager, Grammarly
Mason is a software engineering manager who is trying to make the world a better place by solving problems at the intersection of people and technology. He has spent the past 10 years leading and growing engineering teams at Google and Airtable with a consistent focus on fostering thoughtful positive impact, collaborative problem-solving, and inclusive and supportive environments.

At Google, Mason helped shape some of the core infrastructure behind Google Search, built and led teams developing AI-powered health care products and most recently worked on new projects pushing the boundaries of modern Search experiences. At Airtable, Mason was responsible for building and leading the Enterprise Engineering team, working closely with Sales and Customer Success to develop product features for Airtable's largest and most strategic customers.

Mason graduated from the Massachusetts Institute of Technology with a B.S. and a master's in computer science and engineering. Outside of tech, you can often find him cooking, baking, dancing, singing, or trying some mildly hazardous combination thereof.
The 16 Under 16 in STEM project was produced in part with the support of the Overdeck Family Foundation.
Get stories like these delivered straight to your inbox. Sign up for The 74 Newsletter